NPOHarmony® creates harmony in non-profit systems, people, and processes.
Nonprofit management software that will increase member, donor, and community engagement. Streamline operations and increase efficiency with time-saving tools. NPOHarmony is a powerful and innovative nonprofit management and giving platform that's easy to use.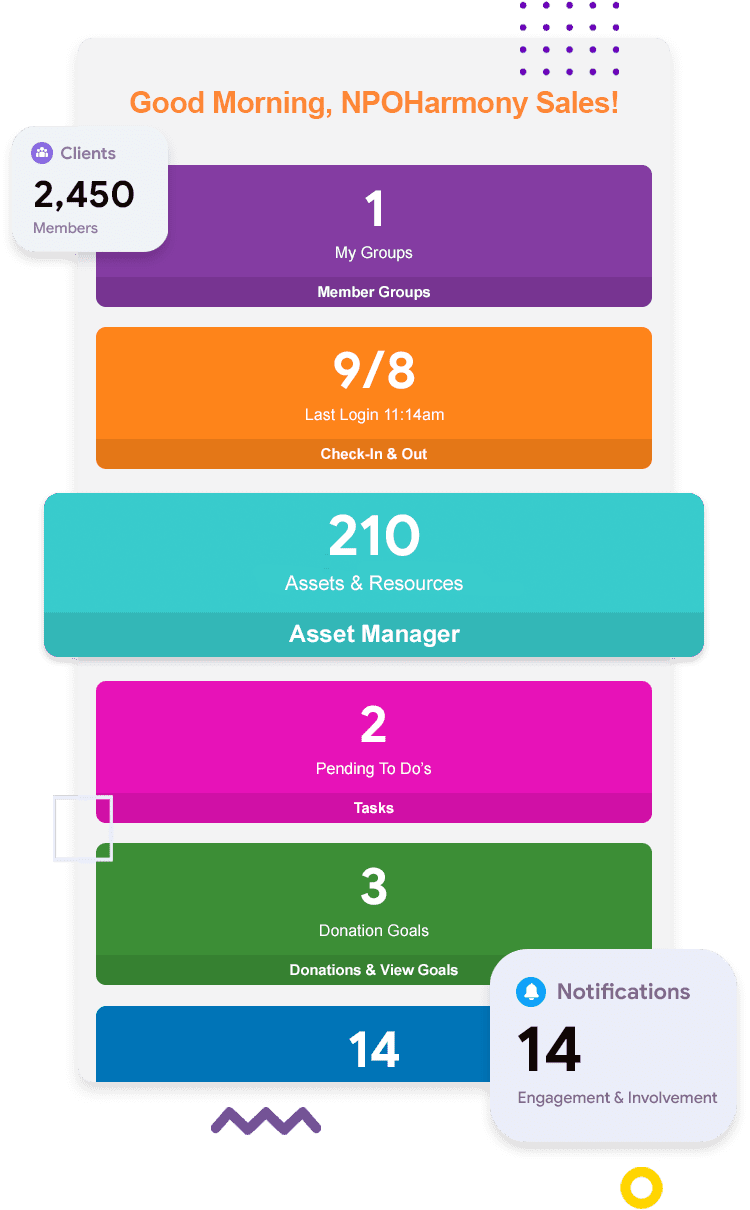 Innovative NpoMS Tools
Nonprofit management software for leaders, managers, donors, and members to get connected, stay involved, and be engaged. Coordinate services and worshops, schedule members and donors, check-in and attendance, and so much more.

Powerful Mass Communication
Send notifications, alerts, confirmations, reminders, SMS marketing campaigns, email blasts, and mass phone call messages with NPOHarmony. Members can update their info and preferences at anytime so you always have their latest contact info on file.

Online Giving Simplified
Meaningful giving simplified. Industry leading payment processing rates. Intuitive Donor management. Manage online and in person gifts in one system. Member goal setting and tracking. Donation receipts and reporting. Year-end statements.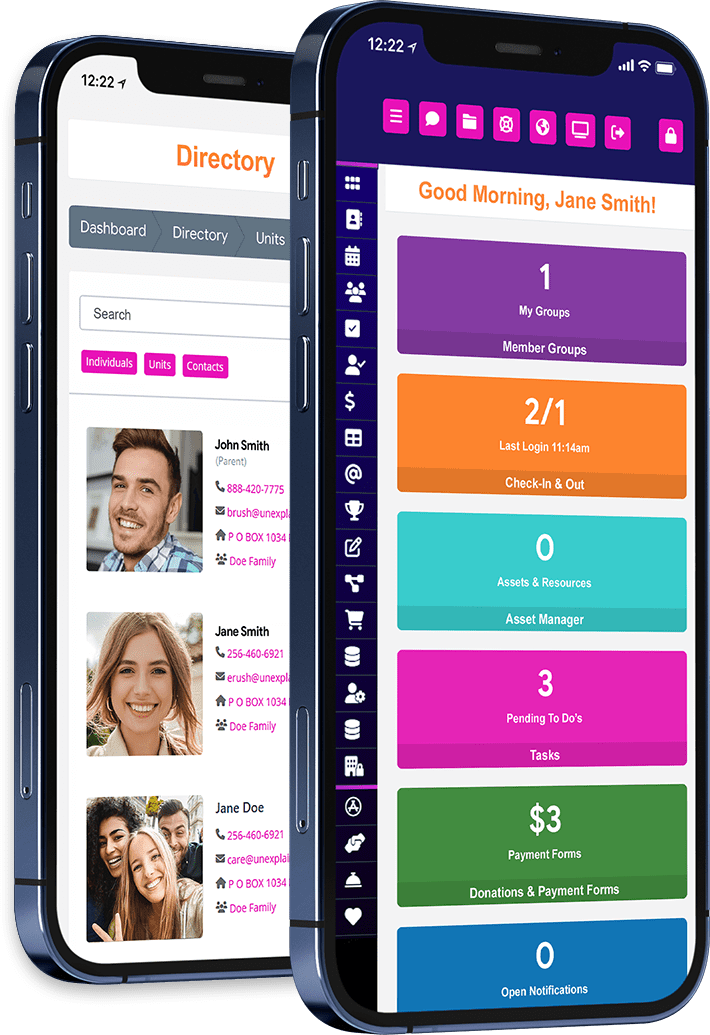 The Most Innovative NPO Management Software
NPOHarmony is a highly innovative, scalable, secure, cloud based Nonprofit Management Software solution that can be used by any size organization. As you grow, we grow with you. We don't charge by the member / user record and increase your monthly cost as you grow...why get penalized for growing?!? That's the exact opposite of what we're trying to accomplish together!

Use NPOHarmony NpoMS to efficiently manage members, member groups, event scheduling, mass communication with mass email and nonprofit sms texting software, track attendance, and so much more. Online giving is state of the art with best in the industry pricing and donor management tools. In fact, we have better pricing than nearly every other non-profit management platform available!



Engaged Members and Visitors
People, Member, Donor, and Group management made easy. Dynamic living or member groups can discuss and interact with each other, share files and resources, and much more. You can also have static filtered non interactive groups as well.
Streamline Operations and Save Time
Dealing with several paper processes, 3rd party systems, or a lackluster NpoMS? We can help end the management nightmare and consolidate your processes into a streamlined solution that can make daily operations less tedious. Accomplish your Goals and become more efficient while you're at it with our easy to use tools!
Increase Giving and Reduce Costs
Integrated online giving. Easily manage online and in person gifts. Single donation receipts. Year-end giving statements. Decrease costs by allowing donors to cover the processing fees.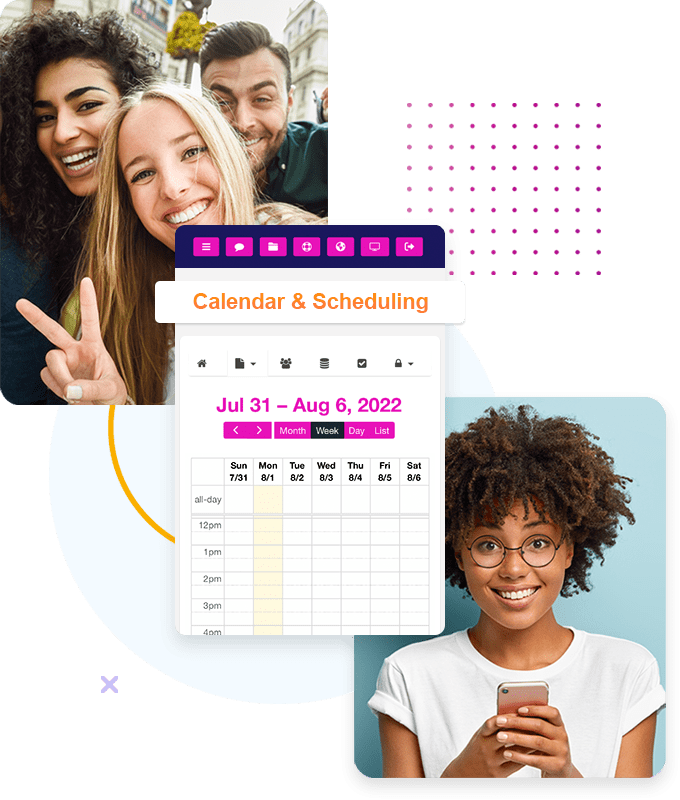 Powerful Workflows & Interactions
NPOHarmony's HarmonyFlo® helps strengthen your strategy (the flow) for your overall mission. 

Save time and amplify your workflows and processes that drive your members, donors, volunteers, and visitors deeper within your organization!
Planning and Scheduling
Employee & Resource Planning, Service Planning, Workshop Planning, Meeting Planning. You name it we have you covered.
Dynamic Involvement Preferences
Easily recruit employees, volunteers, and members and create schedules that pull their dynamic preferences that they manage themselves! Involvement simplified!
Black Out Dates
Folks sick, busy, or on vacation? Schedule around folks that could be away from your next meeting or event automatically.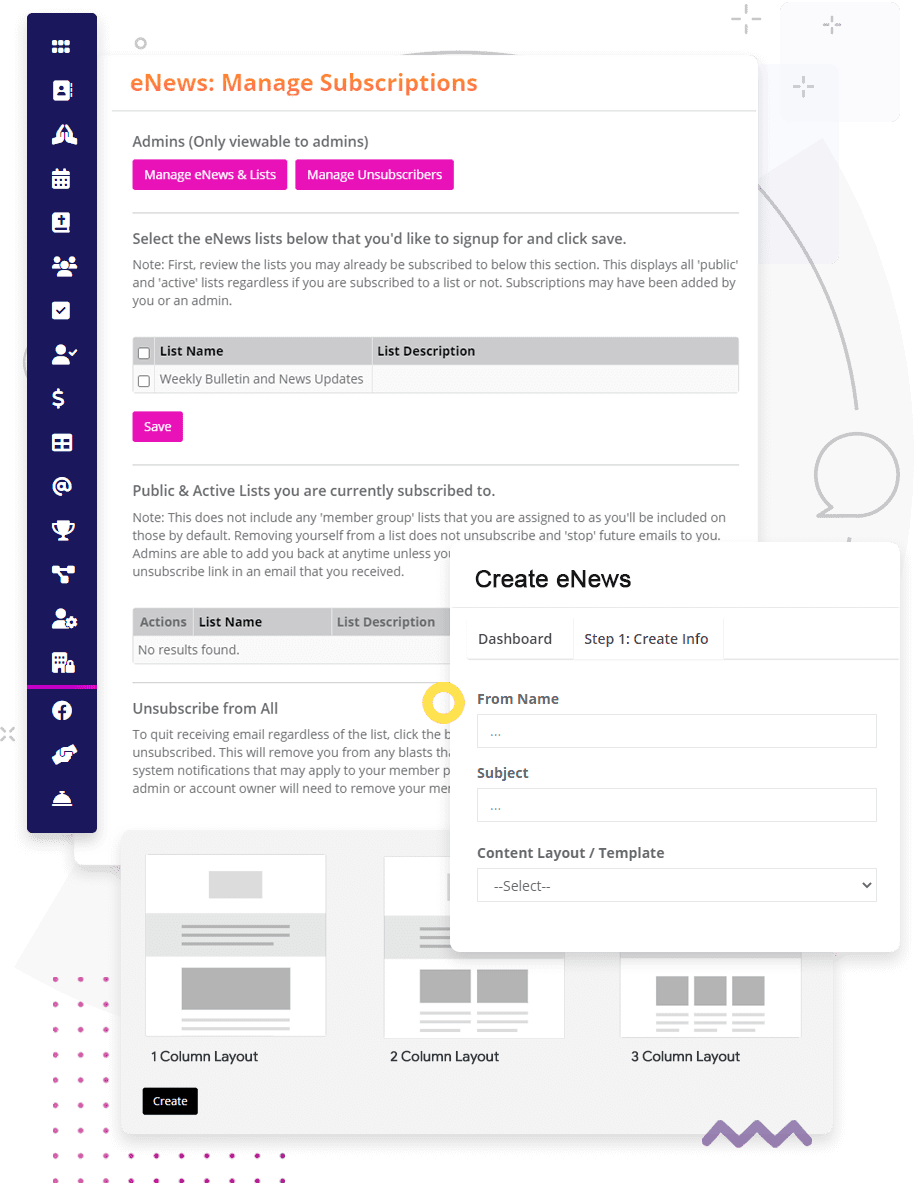 Communication Amplified
Keep your members and community connected and engaged.
Online Chat
Simple 1 to 1 or group chat allowing your members to have a digital conversation with each other. See real time notifications when you have unread messages. Another great way to stay connected!
Mass eMail
Send mass email to groups or your entire database with ease. Send now or schedule later. Replace your existing service with a simple easy to use system and a single bill.
Mass TXT / SMS Messaging
Blast out mass text updates to your individual member groups or your entire database. Great for requests, news, or those quick announcements and updates.
Mass Voice All Call
Send automated phone calls of pre-recorded messages to your members.
All-in-One Nonprofit Management Software Packed with Powerful & Innovative Features
The NpoMS Dashboard
Announcements, News, Tasks, Notifications, & More. The Engagement HQ.
Member Directory
View your organic pictorial member directory, info, & family units at any time!
Member Groups
Dynamic interactive member groups working together or static non-interactive groups too!
Asset Manager
Database and categorize your resources. Update with notes, files, and see a rolling history of changes.
Polls & Surveys
Custom polls, surveys, and quizzes with pre-stored answers and grades, shareable via embed, link, or QR code.
Nonprofit SMS Software
Mass Texting / SMS. Send mass SMS messages to members, groups, or your entire database.
Mass eMail
Easily create html based enews. Send tests, send live or schedule for later.
Mass Voice Calling
Create, schedule, and broadcast mass automated phone calls anytime on any device.
Online Giving
Flexible Giving Simplified. Donor Management. Reporting, Receipts, and Tax Statements. Donor Giving Goals.
Online Payments
Accept payments for anything you'd imagine at a industry leading rate.
Events Management
Centrally Managed Event Scheduling. Reminders. Public & Private Events.
Event Registrations
Use custom forms that make online registrations flexible and super easy.
Custom Forms
Your Forms. Your Data. Your Way. Public and Private Forms. Notifications.
Task Management
Create & assign tasks at a group level or per member. Manage completions.
Online Store & CRM
Everything you need to create, scale and run an online store. Save with the lowest fees. Simple setup and always secure.
Online Chat
Simple 1 to 1 or group chat allowing your members to interact online.
Guest Tracking
Connected visitors, guests, and donors before they even leave your office! Outreach Amplified.
Check-in / Out
Attendance Tracking. See who's present. See who's involved.
HarmonyFlo
Planning & Schedule Building. Dynamic Involvement Preferences.
Custom Resources Page
Share any type of resource via the full html WYSIWYG editor viewable by everyone within your congregation.
NPOHarmony's online giving and payments platform just makes sense.
Get paid quickly and securely! Tools that enable organizations of all sizes to offer secure payments and donations from anywhere, at any time, powered by administrative tools that make management easy. Keep donor data secure. PCI Compliant.

Pay no signup fees, monthly minimums, or hidden costs. Competitive industry leading payment processing rates. Accept payment online for dues, fees, donations, gifts, etc. at just 0.3% + 30¢ / transaction plus Stripe payment processing fees. Stripe's verified non-profit processing fee as of Jan 2023 is 0.8% for ACH Debit and 2.2% + 30¢ / transaction for major credit and debit cards, excluding AMEX.

Recurring giving. Allow members to setup recurring gifts.

Manage in person (manual) donations and online gifts in a single easy to use platform with the giving batch manager.

Allow your donors to cover the processing fees at donation time.

Reporting. Receipts. Year-end tax documents.


Explore Online Payments & Giving
We've partnered with Stripe, the world-wide leader in online payments

Highly secure. PCI server provider level 1 certified which is the most stringent level in the industry.

$640B+ in payments processed by businesses on Stripe in 2021.

229,000+ companies use Stripe, including some of the world's leading brands like Target, Samsung, and The Home Depot.
0.3% + 30¢ / TRX
NPOHarmony charges just 0.3% + 30¢ / TRX regardless of payment type to use our system! Additional Stripe payment processing rates apply.
0
of USA adults have purchased from businesses using Stripe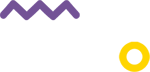 Beyond the next generation of nonprofit management software
Build stronger relationships with each other and your community with NPOHarmony.

No contracts or cancellation fees. Unlimited Records. Unlimited Support.
Frequently Asked Questions
Here's answers to some of the common questions we receive. If you have a question not answered here please
contact us today
.
Can I see NPOHarmony NpoMS in action before purchasing?
Of course! In fact, we encourage it. Please schedule a time to get a demo and talk with our sales team to ensure you have all the questions answered you may have.
Are we able to import our membership contact data from other systems?
NPOHarmony NpoMS has a member import tool with custom profile field mapping allowing you to import pretty much anything you'd like. We'll be glad to assist you along the way too if you need more help.
Can I import giving history for our members from a different provider?
We track our member involvement preferences with Excel and manually build out a schedule weekly of which member is doing which function. Does your tool allow for a printable .pdf to give our members or physically mail?
Using HarmonyFlo you can easily create schedules based off of dynamic member preferences, including honoring their blackout dates. You can also insert a schedule header and footer, and when pubslishing, create a .pdf to send out. This can also be linked into your main shared calendar so that when someone views say this coming Saturday, they'll see the attached schedule.
What's the cost to use NPOHarmony's Online Giving?
This is an a la carte item that is charged based on last month's usage. It resets the same as the texting and email counters do above. We track the number of times a successful payment is made anywhere in your account (online donations, tithes, registration forms, etc) and we take that qty and multiply it by $0.30. We then track the total number of payments received for the current billing month and multiply that 0.3%. The result of these two fees are your NPOHarmony payment processing fees. Stripe processing fees are additonal to this cost.

This gives you access to powerful reporting, batch management to work with in person and online gifts, donor management, tax reciepts and tax statements, and more.

Stripe non-profit payment processing rates still apply. As of Jan 2023, Stripe rates are just 0.8% for ACH Debit and 2.2% + 30¢ / transaction for major credit and debit cards, excluding AMEX.
Do you have the option to allow the member to cover the payment processing fees with their donation or gift like some other software that is out there does?
We sure do. When creating your online giving form, you'll have a plethora of settings available, one being to allow the donor to cover the payment processing fees.
How do we get billed? We sure do not want any surprise fees...
Your $49 monthly access fee is setup as a monthly or yearly recurring charge with Stripe when you create your account with us. This ensures your account, and most importantly, your members have ongoing access to maintain engagement and communicate. 

For the additional a la carte charges incurred from the prior month's actual usage (mass mailing, texting, and payment processing), an invoice will be issued at your monthly reset cycle day (when we reset your counters) and are due on receipt. You can monitor your a la carte usage and adjust settings at anytime within your account settings.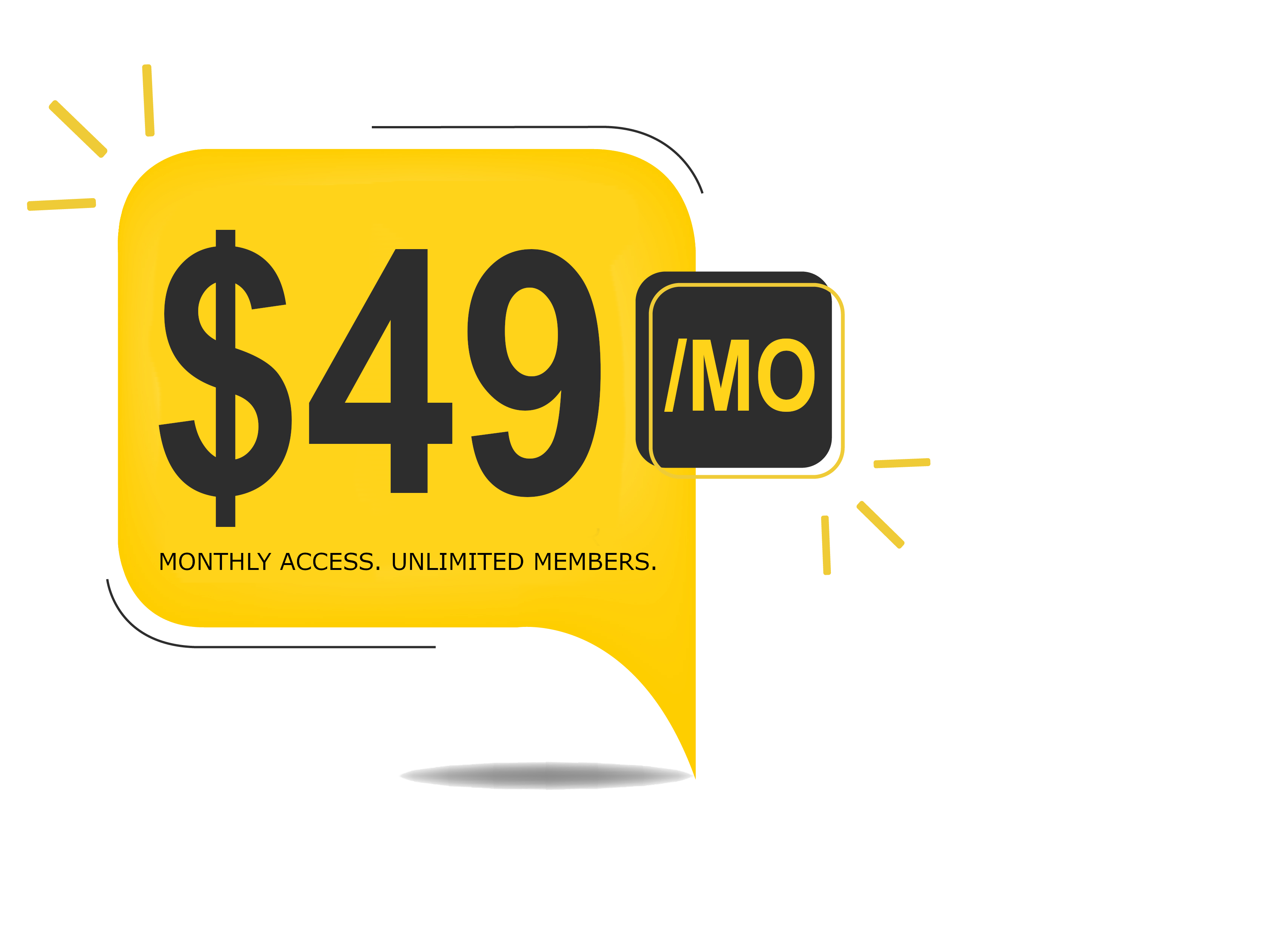 A nonprofit management solution packed with everything you need!
Gain more time to invest in your members and your community by simplifying your workflows and processes with NPOHarmony's highly innovative features.
No contracts or cancellation fees. Unlimited Records. Unlimited Support.